We're getting ready for the release of FINDING YOU by Elizabeth Lee! Check out the excerpt below and fall in love with Boone! #BooneSwoon
Title: Finding You
Author: Elizabeth Lee
Age Group: NA
Genre: Contemporary Romance
Scheduled to Release: October 7, 2013
Being the wild child has worked for Mallory Vandaveer for most of her life. She's the good time girl, up for anything–and everyone in her small town knows it. But when her sister came home after years of being away, long hidden secrets came out. Turns out, Mallory isn't who she thought she was. And now everything starts to feel like a lie. In order to figure out who she is she'll have to set out on a journey to find the one man who holds the answers.
Everett Boone is in hiding. Hiding from his past and the press and the demands of a career he put on hold after tragedy struck. When a young woman with secrets of her own blows into town and rents the apartment next to his, he'll have to face the past he was trying to escape in order to understand his feelings for her.
They'll both have to dig deep inside themselves to discover whether or not they're capable of being enough for one another. Finding the person you're meant to love isn't the problem. Sometimes the hardest person to find is yourself.
EXCERPT
I was done denying myself.

I wanted to touch her.

To taste her.

There was no reason for us to keep acting like we weren't attracted to each other.
"
You sure you want to cross this line?" I looked down at the sliver of space between us and back up into her eyes.

"The last thing I want is for this whole thing to get awkward."
"
It's not going to," she insisted.

"Like you said, two consenting adults blowing off a little steam.
As long as you don't get all clingy with me."
"
I'll try my best," I promised, as I wrapped my arms around her waist and crushed my lips to hers.
I'd been wondering what her lips tasted like for the better part of a week now and I was not disappointed.

Like strawberries and whatever unbridled passion tasted like. She pushed the welding mask from the top of my head and it fell to the ground with a thud as she tangled her fingers in my hair, pulling me closer.

Her tongue danced over the seam of my lips and I graciously let her in, needing her as much as she needed me.
I'd never been kissed like that.

Never by someone with wild abandonment, like she didn't have a damn care in the world about what any of it meant.

It was strictly about what felt good and right then, kissing her felt like the best thing in the world.
I hoisted her body up. She wrapped her legs around my waist and I navigated us toward the workbench I'd been sitting on earlier.

Her lips never relented their assault on mine and I would be damned if I was going to let her out kiss me. Besides my competitive streak, I was enjoying it too much to let myself stop.
As soon as I had her perched on the work bench, my body pressed between her thighs, her hands dropped from my hair to tug my shirt up over my head. She tossed it aside and let her hands rake over my back and shoulders.

Her eyes taking a brief moment to admire my chest and stomach.

I was glad that I hadn't stop giving a shit about my body and quit working out.

And from the pace we were setting I was going to need my energy.
"
Greedy girl," I chuckled against her lips, before grabbing the hem of her shirt and yanking it off her body with the same determination she'd just had with mine.

"This is a two way street."
"
I'm well aware," she flashed me a sultry smile, before reaching behind her back to unclasp her bra.

Effortlessly, she pulled it from her body and sat up straight in front of me.

"We even now?"
GIVEAWAY
Rafflecopter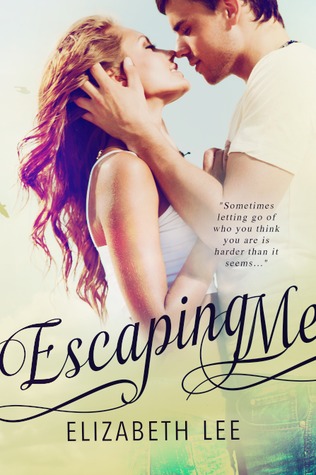 Title: Escaping Me
Author: Elizabeth Lee
Age Group: NA
Genre: Contemporary Romance
Published: July 30, 2013
All she wanted to do was forget. Forget the memory of walking in on her boyfriend in the middle of, well, another girl. Forget how she had her entire life planned out. And, forget about being perfect all the time. Unfortunately, she was Whitney Vandaveer and despite the fact that she moved to the middle of nowhere – she couldn't.
He always knew he would never be more than nothing. No job, no money, no future. Cole Pritchett had accepted the fact that he would always be the screw up and he was okay with it. Until he met her.
Here's the thing they quickly found out – sometimes we all need a little help escaping who we think we are.
Author Bio:
Born and raised in the middle of a Midwestern cornfield (not literally, that would be weird), I've spent my entire life imagining stories. Stories where the right guy always gets the right girl, first kisses are as magical as they are on the big screen and anything is completely possible if you believe.
Although this journey began years ago, it recently took on a whole new life. After years of devouring hundreds of Romance, YA and New Adult novels, I had an epiphany... I should write a book. And I did it!
If I'm not reading, writing, enjoying drinks with my amazing group of girlfriends or chasing around a sarcastically funny kid, I'm probably watching television shows that were created for teenagers, while my husband teases that I'm too old to watch them.