We're celebrating the release of FINDING YOU by Elizabeth Lee! Check out the excerpt below and fall in love with Boone! #BooneSwoon
Title: Finding You
Author: Elizabeth Lee
Age Group: NA
Genre: Contemporary Romance
Scheduled to Release: October 7, 2013
Synopsis:
Being the wild child has worked for Mallory Vandaveer for most of her life. She's the good time girl, up for anything–and everyone in her small town knows it. But when her sister came home after years of being away, long hidden secrets came out. Turns out, Mallory isn't who she thought she was. And now everything starts to feel like a lie. In order to figure out who she is she'll have to set out on a journey to find the one man who holds the answers.
Everett Boone is in hiding. Hiding from his past and the press and the demands of a career he put on hold after tragedy struck. When a young woman with secrets of her own blows into town and rents the apartment next to his, he'll have to face the past he was trying to escape in order to understand his feelings for her.
They'll both have to dig deep inside themselves to discover whether or not they're capable of being enough for one another. Finding the person you're meant to love isn't the problem. Sometimes the hardest person to find is yourself.
EXCERPT
Looking around my small apartment at all the boxes I had to unpack and thinking of the chores that needed to be done to make this place comfortable—at least as comfortable as possible given the constant ball of nerves I'd be while this whole mess played out—I sighed. I'd managed to get the bed made and a few of my clothes hung up in the closet after Cole left. The rest could wait until tomorrow; I needed a good night's sleep and a clear head.
I flipped off the lamp next to my bed and snuggled down in the sheets that still smelled like home. Like that undeniable, comforting, wrap-you-in-a-hug smell of home and I loved it. Gave me a little relief to know that I still had at least a little part of my life from before the Vince bombshell was dropped on me and exploded my seemingly charmed life. Sure Robert Vandaveer was a shitty dad, but at least I knew he was. I'd accepted his flaws. I hated them, but I accepted them. Vince was a complete mystery. A few photos and old stories my mom had told me weren't enough to really know him. His flaws may have been worse than Vandaveer's.
Just as I was about to drift off, dreams of small town peacefulness beckoning, a loud crash startled me. Popping up like I'd just been shot, I clasped my hands over my chest and felt my heart beating. I could hear it. Or at least I thought I could. It took me a few seconds to realize that the chaotic thumping I thought was my heart was actually a drumbeat coming through the brick wall that separated my apartment from Boone's.
Son of a bitch.
Not only was I living next door to a paranoid jerk, he was also apparently moonlighting as a drummer. A cheesy wedding band drummer at that. Playing some easy listening, soft rock bullshit that I'd only heard during a bad 80s movie montage.
I climbed out of bed and stomped my way over to beat down Boone's door and give him a piece of my mind. Just as I was about to walk down the stairs and do just that, I realized that with the way the music was blaring there was no way he'd hear me knocking on the outside door. My eyes shot to the window and the fire escape. I'd explored it a little earlier when I was moving stuff in, but I hadn't ventured out onto it yet. Looked sturdy enough. Didn't fire escapes have to be safety rated? I sure hoped so. All I knew for sure was that it stretched across to Boone's apartment windows.
As I shimmied out the window and felt the cool metal grates beneath my bare feet, I was fuming. I steadied my hands on the railing with a firm grip and tugged to see if they were secure. A little loose, but it seemed strong enough—probably the last person to die on a fire escape's exact thoughts. Holding my breath, I continued across. The fact that he'd woken me up was one thing, but for me to have to risk my life to yell at him about it... He'd crossed the don't-fuck-with-Mallory line. Or was it the don't-fuck-with-Molly line? Whatever it was, he'd crossed it.
I peered through his windows, the sounds of his drumming along to the music vibrating the panes of glass that stood between us, I readied my fist to knock—no, to pound. Just as I was about to make contact, my eyes registered how much he was zoned in and playing the rhythm of the next song that began blaring through his speakers.
Hello, drummer boy.
The primal look in his eyes. The controlled movement of the muscles in his toned arms as he played. The sheen of sweat that slicked his shirtless body and made the six-pack he'd been hiding practically glisten with an invitation to be licked. I drew my bottom lip between my teeth and stared.
Why did he have to be such a dick? He seemed stressed out and pissed off. I was pretty sure it had to do with the mysterious death he'd spouted off about yesterday. I had no idea what he'd been through, but I just didn't see the point in being miserable all the time. Life was meant to be lived. To have fun. Maybe my sister was right about him needing someone like me to put him in a good mood. I had it on good authority that I was a pretty good roll in the hay. Maybe one wild night was just what he needed.
*******************************************************************************
Title: Escaping Me
Author: Elizabeth Lee
Age Group: NA
Genre: Contemporary Romance
Published: July 30, 2013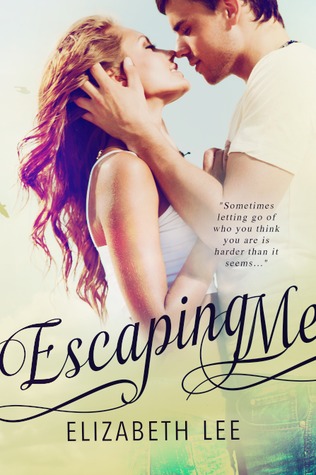 All she wanted to do was forget. Forget the memory of walking in on her boyfriend in the middle of, well, another girl. Forget how she had her entire life planned out. And, forget about being perfect all the time. Unfortunately, she was Whitney Vandaveer and despite the fact that she moved to the middle of nowhere – she couldn't.
He always knew he would never be more than nothing. No job, no money, no future. Cole Pritchett had accepted the fact that he would always be the screw up and he was okay with it. Until he met her.
Here's the thing they quickly found out – sometimes we all need a little help escaping who we think we are.
Author Bio:
Born and raised in the middle of a Midwestern cornfield (not literally, that would be weird), I've spent my entire life imagining stories. Stories where the right guy always gets the right girl, first kisses are as magical as they are on the big screen and anything is completely possible if you believe.
Although this journey began years ago, it recently took on a whole new life. After years of devouring hundreds of Romance, YA and New Adult novels, I had an epiphany... I should write a book. And I did it!
If I'm not reading, writing, enjoying drinks with my amazing group of girlfriends or chasing around a sarcastically funny kid, I'm probably watching television shows that were created for teenagers, while my husband teases that I'm too old to watch them.