Happy Release Day to Jessica Sorensen and her new book SETH & GREYSON! We are so excited to be sharing a sneak peek into the book with you. Make sure to enter the giveaway below for a chance to win an ebook copy of this book! #NeverBeAfraidToLove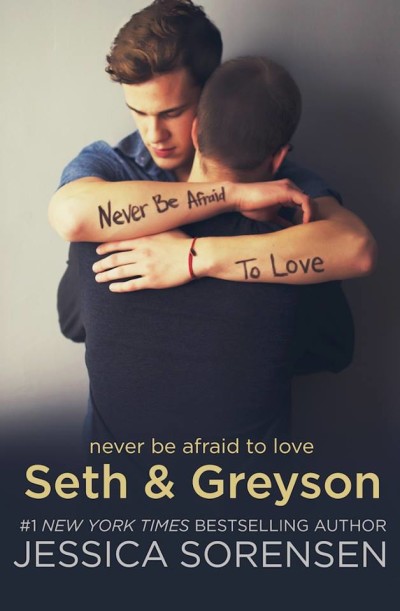 After being betrayed by someone he thought he loved, Seth leaves for college hoping to get a new start. But leaving his past behind is more complicated than he expected, and underneath his upbeat attitude, Seth struggles with opening up to people.
Seth is instantly drawn to Greyson and his sweet and charming personality. But even though he feels a strong connection with Greyson, Seth's still hesitant to open his heart to love.
With the help of his best friend Callie, Seth realizes he needs to overcome his fear of commitment. But will he be able to finally admit how he truly feels about Greyson?


As I sit down in a desk toward the back of the room, I try not to think about what my mother said this morning, but I find myself assessing each person as they enter. It's not until the object of my stalking walks through the doorway that I consider maybe my crazy mother was right. I quickly realize how insane that would make me for believing her and force myself to stop thinking like my mother. I've always been more levelheaded than both my parents, and I want to hold onto the trait. Tearing my attention away from him, I lean over to grab my textbook and a pen out of my bag. When I sit up, I'm surprised to find he's taken the desk right next to mine. Up close, he's even better looking, but there's a hint of nervousness in his eyes that I didn't notice while looking through the lens, which is kind of strange. Usually, I see more when I'm taking pictures. Or maybe he was just happier when he was around his friend. "Hey," he greets me with a slightly nervous smile. "Hey." I rack my brain for something to say that won't make me sound awkward, but he beats me to the punch. "I'm Seth," he says, extending his hand to me. "Greyson." I take his hand, noting it shakes a little in mine. "Is this your first class?" "For the fall semester, yeah." "You're not a freshman?" "No, I am," he replies. "I just started the year this summer." I smile, and decide to flirt a little, see where it goes. "So you should be a pro at classes by now." "You would think so," he muses. "But I'm not a fan of school and being a fantastic student is at the bottom of my list, right between getting a good night's rest and becoming friends with my slobbish roommate." "You live in the dorm?" I ask and he nods. "I actually thought about doing that, but my parents insisted I need a place of my own. That it's good for my aura." His brow cocks. "Aura?" "Yeah, they're a little crazy like that, but in a good way." I try to pick up on the vibe he's giving. Is he just being friendly? Or is he interested in me? I watch as his eyes trail down over my neck and chest, suddenly realizing that we're still holding hands. Definitely a bit awkward, but in a good way. And that means he's interested, right? When his gaze reaches our joined hands, he startles and quickly pulls away. I catch a flash of alarm in his eyes as he scans the room before looking back at me. He clears his throat. "So, you just moved here?" I wonder why he's acting so weird suddenly. Maybe I misread his interest. Doubtful, though, so what is it? "Yeah, from Florida." His eyes snap wide. "Holy shit. How the hell did you end up going from the sunshine state to cowboy central?" "Is Wyoming cowboy central? I thought that was Texas?" "Clearly, you haven't been around when the fair rolls in. It's like rodeo central. Nothing but cowboy hats, boots, and ridiculously tight pants as far as the eye can see." "Sounds… interesting, I guess." "Try horrifying. Some of the stuff I've seen through those tight jeans," he shudders, "still haunts my nightmares." I laugh at him and he grins, obviously pleased with himself. Like how he was with the girl earlier, he seems to enjoy making people laugh. I consider what my mom said about finding friends and going out on dates. He's hot, nice, and funny. As long as I can keep the conversation going and find the right moment, I might ask him out. Get myself out of the damn rut I've been in.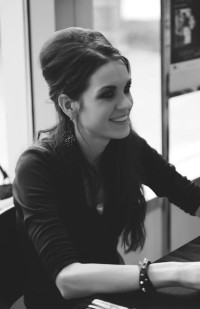 Jessica Sorensen is a New York Times and USA Today bestselling author from the snowy mountains of Wyoming. When she's not writing, she spends her time reading and hanging out with her family.
Facebook | Twitter | Website | Goodreads
---

♥SERIES READING ORDER♥
Book 1: The Coincidence of Callie and Kayden
Amazon, Barnes and Noble, Kobo and iTunes
Book 2: The Redemption of Callie and Kayden
Amazon, Barnes and Noble, Kobo and iTunes
Book 3: The Destiny of Violet and Luke
Amazon, Barnes and Noble, Kobo and iTunes
Book 4: The Probability of Violet and Luke
Amazon, Barnes and Noble, Smashwords, Kobo and iTunes
Book 5: The Certainty of Violet and Luke
Amazon, iTunes, B&N, Kobo and Smashwords
Book 6: The Resolution of Callie and Kayden
Amazon, iTunes, B&N, Kobo and Smashwords
Amazon, iTunes, B&N, and Kobo